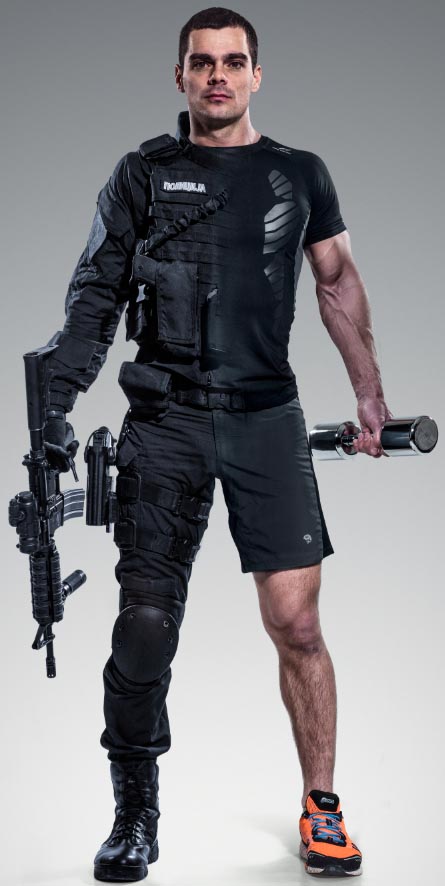 Jovica Spajić was born in a small village near Priboj – a town surrounded with magnificent mountains and the river Lim in their foothill. He spent his childhood and early youth growing up in one of the most picturesque parts of Serbia where a traditional Serbian family and the moral values of the good-natured people unblemished by civilization development have still been preserved. The place arose from the foundations of a medieval square and a high fortress, a legacy of a former town Jagat, built to defend and safeguard the monastery from pre-Nemanjic and early Nemanjic era and a generation after generation of its people matured with a deep sense of respect for sanctity, religion, motherland and life hence it is no wonder that Jovica matured from a boy into a young man gifted with virtues which his modest family, his closest surroundings and historical spirit of the place had been instilling into him.
Searching for his quintessence, he continues his schooling in Sremska Kamenica and after graduating from High School of the Internal Affairs, he returns to his hometown where he works until 2008 as a police officer in Priboj police station. The same year, he comes to the capital and becomes a member of Special Anti-terrorist Unit (SAJ) within the Ministry of Internal Affairs of the Republic of Serbia.
Guided by motives enhanced by his permanent desire for constant self-improvement in order to broaden the mind which is resisting selfish, low, materialistic impulses, he perfects and completes his spiritual expansion by spreading out into equally sublime physical spheres of interests and actions.
He is a black belt holder in Japanese jiu-jitsu and judo. He competed in Cross Fit and accomplished outstanding results in all disciplines. Since 2012 he has been a member of the Serbian ultra marathon national team and has represented his country at the world most significant endurance races and competitions.
He persistently improves and acquires knowledge and skills through continuous courses and training in alpinism, free climbing, parachuting, survival in extreme conditions, topography and nutrition. He is exceptionally tactically, mentally and physically trained.
All the experience allowed him to undertake the greatest and most extreme ventures a human body can bear. He carefully chooses the biggest and toughest world races to take part in. In 2012, his versatility, readiness, motive and a deep faith in himself lead him to the most demanding world ultra marathon races where he becomes one of the best ultramarathon runners in the world. The exceptional thing about him is that he factually is a competitor but above all he moves his own limits in the fight with his strongest rival – himself.
All the results he has accomplished so far are available on the site "DUV ultra marathon statistic" ​http://statistik.d-u-v.org/index.php?Language=EN
In 2012, he was the only representative of the Balkans in the ''Sahara race'' ​http://www.4deserts.com/​ a 250km long race  with 250 competitors from all over the world. He takes 17th place overall and 5th place in his category.
In 2014, he participated in 24 hour race and 100km at the IAU Ultramarathon which took place in Palic, Serbia. He broke the national record of Serbia in 24hour race by running 222.221km.
In 2014, he took part in "Tor des Geants" a 333km long trail ultramarathon in the Alps with the total elevation gain of 24,000m  ​http://www.tordesgeants.it/en
In 2014, he competed with the best ultramarathon runners in "Icarus Florida Ultra Fest", a six-day race on a certified track. He was second overall and first in his age category with a new national record of 682.3km. ​http://www.icarusfloridaultrafest.com/
In 2014, he took part in "Milano – San Remo" ultramarathon, a 283km long race. Among elite world ultramarathon runners he was the youngest competitor but managed to finish the race  in top 10 and first in his age category with the time of 41hours and 13minutes. 85% of competitors didn't finish the race. http://www.ultramilanosanremo.it/
In 2015, he finished a legendary race "Badwater" in Death Valley, the USA. He ran 217km of extreme ultramarathon and took the 8th place overall and 2nd place in his age category.  http://www.badwater.com/
In 2015, he represented Serbia at the 24hour World Championship in Torino, Italy.
In 2015, he published a book with his SAJ colleague "Beat Yourself" in which he writes about physical and mental preparations for endurance sports.
In 2016, he took part in the World cup "World Trophy" in Athens. He won the 6-day race and set a new national record of 702km.
In 2016, he won "La Ultra – The High" in the Himalayas and broke a long time record. The race is 333km long and takes place in the Indian part of Himalayas at the average altitude of 4.800m. https://vimeo.com/186314157​ ​http://www.laultra.in/
In 2017, Jovica, Inspired by Hope inspires others and runs for the ones who can't. He sets new standards in ultramarathon. His will and motives lead him to races on three different continents, with ​temperature difference of over 100 Celsius, from the North Pole and Arctic to the hottest part of the Namibian desert.
In 2017, he took part in the "Yukon Artic Ultra" in the Arctic Circle, a 700km long race which is run with the temperatures reaching -50 Celsius.
In 2017, he ran "Sahara race" in the Namibian part of the desert, an ultimate utramarathon of 250km at the temperatures exceeding +50 Celsius and took the 2nd place overall.
In 2017, he took part in a legendary "TAHOE Lake" in California, the last habitat of the Navaho Indians in the national park Homewood. He finished the 340km long race as 4th overall.
In 2017, he also participated in a legendary race "Jungle Marathon", the last edition of the race and enters history as the winner of probably the toughest ultramarathon in the world.
Jovica's aim is to awaken and motivate other people with his results to understand that they can always move their limits, beat themselves, be persistent, committed and believe deeply in their own journey. No matter whether it is the race or life problems, surrender is not an option.
One of Jovica's main characteristics is that he is recognized as exceptionally devoted and ready to help everyone. Results are not a matter of utmost importance for Jovica. The mission and motive which drive him through the race come first. He wants to represent Serbia in the best way on any continent, represent our tradition, our culture and show that we are noble and spiritual people. For him, a race is not just a race, a mere competition or rivalry, for him, each race is a serious project which is planned down to the smallest detail for months beforehand. His modesty, upbringing and understanding of true values of life made him a role model of numerous runners and young people who idealize him.
In each and every race he does his best, led not only by the aim to finish the race, but to motivate the ones on the verge of surrender with his own endurance, to give back hope to all who think that they are not strong enough to run their own life races. It has not been his physical fitness and skill that proved to be crucial in any of his races but his complete dedication to the aim which he runs for. The aim has always been inspired by humanity, love and deep faith.
He is highly respected worldwide because he often disregards his own results and success on the race in order to help a competitor in need.
That is the reason why Jovica and his friends founded a running community "Ultra Runner Serbia" which now has over 2,000 members.
Moreover, Jovica brings attention to the problem of Angelman syndrome, pulmonary arterial hypertension as well as other rare diseases. Helping the diseased, people is a strong personal motive. He is determined to help people in need and bring them back hope in goodness, endurance and humanity.
He donated souvenirs and equipment from all his races and sold medals in order to raise money to help children and the ones in need.
His tough, wiry body conceals indomitable will, strength, determination and above all modesty.
Jovica is not a slave of material wealth and does not share desires of his peers. He always goes back to his solitude and contemplation. Bursts of euphoria of others bring him back to faith in the time when most people struggle with a lack of it. He finds mental strength even when there is nothing left in his body. He recognizes nobility and perseverance in everyone reminding people who they truly are when they are guided with the strength of pure heart, hope and faith.